by Robert Joseph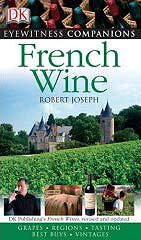 Robert Joseph has created a reference book on the wines and winegrowing regions in France. After an informative outline of the history of wine, detailed information on French viticulture and vinification, and many handy wine-buying and wine-travelling tips, he gets to the core of the subject. The 10 wine-making regions of France are presented first with an introduction to the region as a whole, followed by a driving tour that touches the region's sightseeing highlights and key wine destinations. The pages that follow provide choices of wine among the region's appellations, and include a selection of recommended producers. However, the book does not provide information about specific wines, such as rating scores and prices.
This wine book is quite handy in its size, comes with plenty of beautiful pictures making you long for a stay in France, and includes helpful touring maps, turning it into the perfect companion for a trip through France.
Robert Joseph's French Wine is highly recommended to anyone who wants to become acquainted with the wines of La Grande Nation. Having studied this wine book, you will appreciate and understand the richness and complexity of the world's most important wine-producing country.
Wine Book Summary