by Robert M. Parker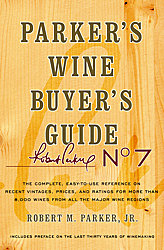 Robert Parker is the most influential wine critic in the world, and his 1,500 page Wine Buyer's Guide is now available in its 7th edition. This wine book is an easy-to-use reference on recent vintages, prices, and Parker ratings for more than 8,000 wines from all the major wine regions.
The first 40 pages offer interesting insights into how Robert Parker sees the world of wine, including his own role there. He thinks wine critics should be blessed with independence, courage, experience, individual accountability, emphasis on pleasure and value, focus on qualitative issues, and candor. After providing helpful advice on buying, storing, aging, and serving wine, he moves on to the "dark side of wine", summarizing how some winemakers destroy the joy of wine by unnecessary fining and filtration.
The key part of the book is dedicated to the major wine regions. Each section on a specific wine region provides
an overview of the viticultural region,
a buying strategy,
a summary of the quality of recent vintages for the area,
a list to that area's best winemakers, and
ratings and expected maturity for wines from recent vintages.
While Robert Parker describes the style and specialties of each winemaker, the tasting notes of the individual wines are missing.
Most of this wine book is dedicated to France, which doesn't come as a surprise, given Parker's love for Bordeaux and Rhone. Nevertheless, lesser known wine regions such as Hungary and Israel are covered, as well.
In a nutshell, this wine book is not only a buying guide, but also an educational manual, making it a valuable resource for anyone with a serious interest in fine wine.
Wine Book Summary