by Alice Feiring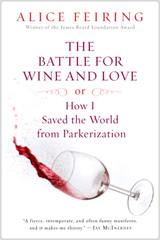 Love him or hate him, Robert Parker has been the most powerful critic in the wine world for almost 30 years, and his verdict on a specific bottle of wine is extremely influential. A high score on his 100-point scale will turn a wine into a quick-turning asset with sky rocketing prices, and a low score will destroy its value in a matter of minutes. Therefore, winemakers all over the world have been accused of trying to imitate his preferred style, which is described as "over-oaked fruit bombs" by other wine critics. Alice Feiring is on a personal crusade to protect wine authenticity from this journey to the middle. She wants every wine to adhere to proven local winemaking techniques and bring terroir-specific nuances to life; believing that a heterogeneous world of wine (for better or worse) is more interesting than an homogenous one catering to one man's thoughts on how a good wine should be.
As if this subject were not controversial enough, she adds more oil to the fire by including Sex and the City like episodes of her romantic life; attempting to draw the reader deeper into the story. Not every reader will find her stories of the Bow-Tie Man and the Owl Man integral to the tale, but they do not get in the way too much and she has so much more to say.
Alice Feiring is very passionate about wine and takes the reader on a fascinating trip to discover the world of authentic wine. She describes how giant corporations use modern technology to create "cookie-cutter wines" for Parker's palate, whereas independent winemakers strive for "the magic that brings soil, climate, vintage, and winemaker together". This wine book culminates in the inevitable "date with Bob", where Alice Feiring and Robert Parker exchange their thoughts.
This is a very personal and provocative wine book, which you will either love or hate. We loved it, and if you do to it will have a profound impact on how you view the world of wine, making it a must read for everyone with a serious interest in the subject.
Wine Book Summary