by John Livingstone-Learmonth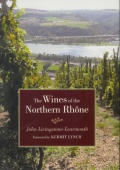 John Livingstone-Learmonth summarizes 30+ years' experience in The Wines of the Northern Rhone. Unlike any other wine author covering this region, he has been following the Rhone and its wines since 1973, covering well-known appellations such as Hermitage and Cote-Rotie as well as the more hidden gems Condrieu and Cornas.
Home to the Syrah and Viognier grapes, the northern Rhone valley used to be a serious competitor of the best chateaux in Bordeaux, but fell almost into complete oblivion after the phylloxera crisis. Livingstone-Learmonth provides marvelous insights into this rivalry, and explains the geology, the vineyards, the wines, and the winemakers in depth. For every appellation, he reviews a large number of the best producers, including ratings of their wines and aging guidelines, as well as precise information how each producer makes his wine and how he likes to pair it with food. Even though you have not been there, it almost feels as if you have met the producer yourself.
If you want to buy northern Rhone wines or consider a trip to this unique region, just get this wine book.
Wine Book Summary